Cosina AF 19-35mm f/3.5-4.5 MC Specifications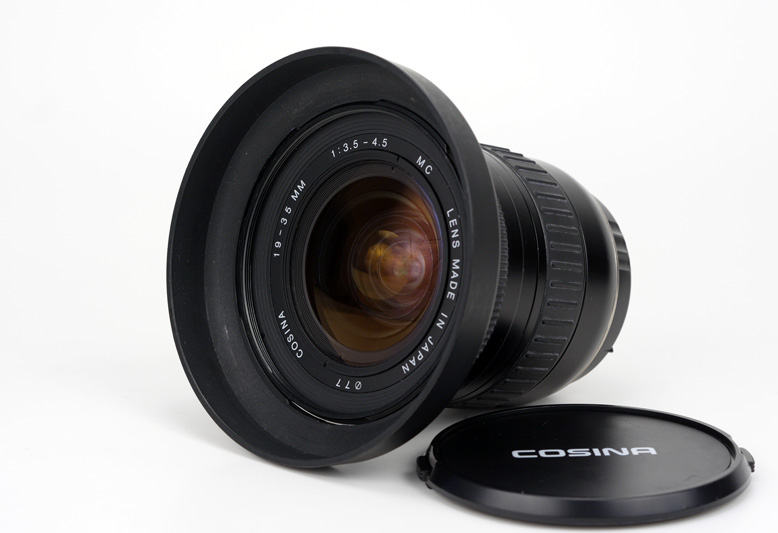 Compatibility: analog/digital
Diagonal Angle of View: 97.4° - 63.4°
Maximum Magnification: 1:12
Open Apertures: 19-22mm f/3.5 -- 23-32mm f/4.0 -- 33-35mm f/4.5
Minimum Apertures: 19mm f/19 -- 20-30mm f/22 -- 31-35mm f/27
Number of Aperture Blades: 8
Iris Pattern: polygonal
Minimum Distance: 50cm
Filter Thread: 77mm
Maximum Diameter: 82mm
Length: 69.5mm
Weight: 300g
Focus Type: front lens focus
Zoom Type: rotary
Lens Hood: bayonet mounted, round shape (104 x 18mm)
Produced: ~ 2006
Tests: Old Photodo
Additional Information:
The lens was available in silver and black editions. The focus ring rotates during AF operations, as well as the lens hood during AF/MF. The AF is relatively loud, but fast and quite accurate.
Rebadges of this lens were sold by Phoenix, Promaster, Soligor, Vitacon, Vivitar and Voigtländer (click to compare). A "Digital" version was sold by german distributor Walimex. A different 19-35mm lens was sold by Tokina and Quantaray (features a heavier build and internal focus mechanism) as well as by Tamron (less heavy according to the claimed specs, but internal focus as well).