Canon EOS 50 a.k.a. EOS Elan II [US] Specifications
also covering Canon EOS 50E a.k.a. EOS Elan II/IIE [US] and EOS 55QD [Asia]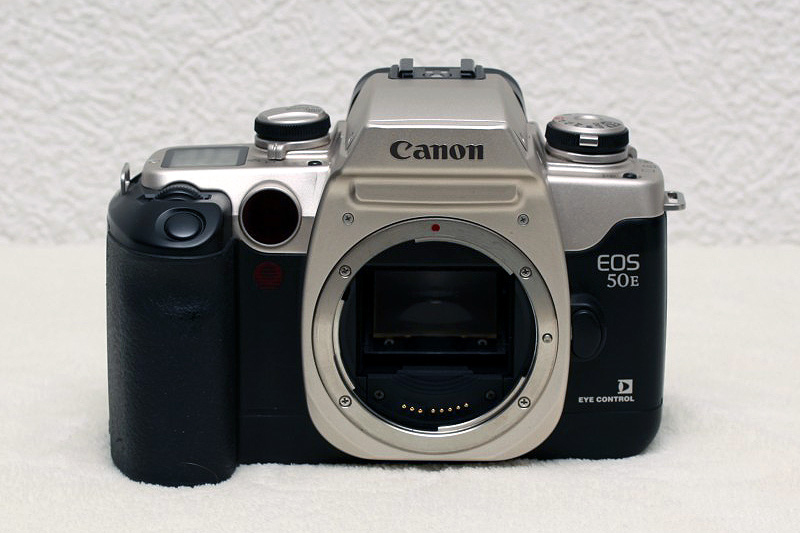 Photo © by Henrik Möller
ISO Film Speeds (Auto): 25 - 5000
ISO Film Speeds (Manual): 6 - 6400
Shutter Speeds: 1/4000s - 30s
Bulb Mode: supported
Max. Shutter Frequency: 2.5 fps
Shutter Release Time Lag: 92ms (according to Stepping Stone, LCC)
Mirror Lockup: supported
Exposure Compensation: ±2 EV
Auto Exposure Bracketing: supported
Viewfinder Coverage: 90% horizontal, 92% vertical
Viewfinder Magnification: 0.71x
Focus Screen: fixed
AF Points: 3 (with both Active Focus and View Finder Indicators)
AF Operating Range: 0 EV - 18 EV
AF Aperture Limit (Linear Type Sensors): f/5.6
AF Aperture Limit (Center Cross Type Sensors):
AF Aperture Limit (Peripheral Cross Type Sensors):
Aux Light: built-in (with the exception of the EOS 55QD)
Flash Metering: A-TTL/E-TTL
X-Sync: 1/125s
Max. Trigger Circuit Voltage: 6V
Second Curtain Sync: supported
High Speed Sync: 1/4000s
Flash Exposure Compensation: ±2 EV
Pop-Up Flash: built-in
Pop-Up Flash Coverage: 28mm
Pop-Up Flash Guide Number: 13m
Body Size: 153mm x 105mm x 71mm
Body Weight: 595g
Battery Required: 1x 2CR5
Battery Grip (optional): BP-50
Power Drive Booster: not available
Produced: 1995
Tests:
Additional Information:
The EOS 50/Elan II was the base model featuring a Quick Control Dial. The EOS 50E/Elan IIE was the advanced model additionally equipped with Eye Control, which was already twice as fast as the one featured in the EOS 5. The 50E was also available as QD version (with Quartz Date Back included, adding approx. 5g to its total weight. The japanese EOS 55QD again was based on the EOS 50E QD (in featuring the Quick Dial, Eye Control and Quartz Date Back), but also featured a pair of selectable panorama iris blades reducing the image area to 13mm x 36mm.