Canon EOS 10 a.k.a. EOS 10S Specifications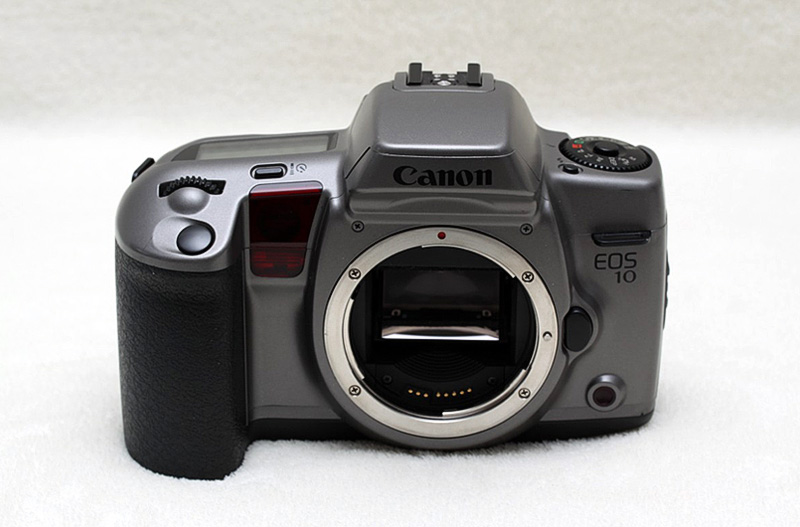 Photo © by Henrik Möller
ISO Film Speeds (Auto): 25 - 5000
ISO Film Speeds (Manual): 6 - 6400
Shutter Speeds: 1/4000s - 30s
Bulb Mode: supported
Max. Shutter Frequency: 5 fps
Shutter Release Time Lag:
Mirror Lockup: supported
Exposure Compensation: ±5
Auto Exposure Bracketing: supported
Viewfinder Coverage: 92%
Viewfinder Magnification: 0.74x
Focus Screen: fixed
AF Points: 3 (with Active Focus Indicator)
AF Operating Range: 0 EV - 18 EV
AF Aperture Limit (Linear Type Sensors): f/5.6
AF Aperture Limit (Center Cross Type Sensors): sensor type featured, value unknown
AF Aperture Limit (Peripheral Cross Type Sensors):
Aux Light: available
Flash Metering: A-TTL
X-Sync: 1/125s
Max. Trigger Circuit Voltage: 6V
Second Curtain Sync: not supported
High Speed Sync: not supported
Flash Exposure Compensation: not supported
Pop-Up Flash: built-in
Pop-Up Flash Coverage: 35mm
Pop-Up Flash Guide Number: 12m
Body Size: 158mm x 106mm x 70mm
Body Weight: 625g
Battery Required: 1x 2CR5
Battery Grip: not available
Power Drive Booster: not available
Produced: 1990
Tests:
Additional Information:
The Canon EOS 10 features a built-in timer allowing for intervals from 1s to 23h:59m:59s for frames 2 to 36. It has been released in silver and black editions and was also sold as EOS 10 QD version with the Quartz Date Back module included, adding approx. 5g of weight in total.