Canon EF 100-400mm F4.5-5.6L IS USM Specifications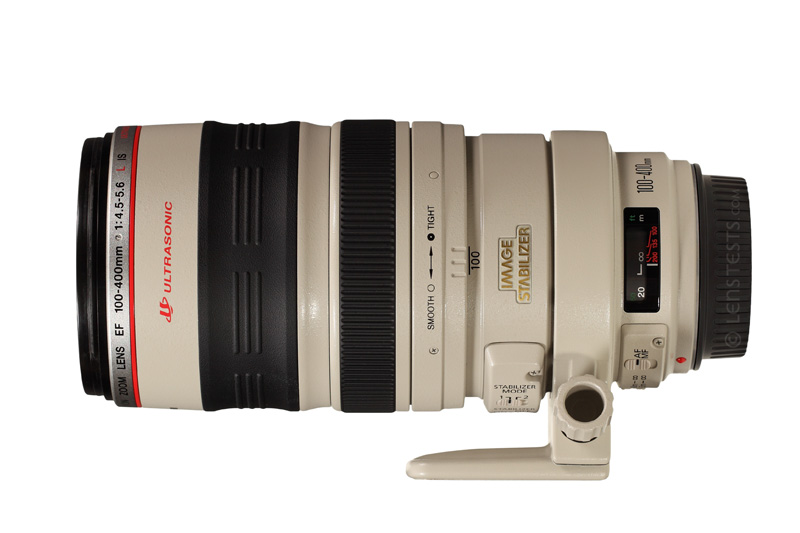 Photo © 2012 by LensTests.com
Compatibility: analog*/digital
Diagonal Angle of View: 24° - 6.1°
Maximum Magnification: 1:5
Minimum Aperture: F32 - F38
Number of Aperture Blades: 8
Iris Pattern:
Minimum Distance: 180cm
Filter Thread: 77mm
Maximum Diameter: 92mm
Length: 189mm
Weight: 1380g
Focus Type: Ring-USM, internal focus mechanism (RF?), varifocal
Full Focus Throw: 120°
Dual Pixel CMOS AF: supported
Zoom Type: push-pull
E-TTL II Distance Information: yes
IR Capability: reported by Lens Play and IR Forum
Lens Hood: ET-83C
Produced: 1998
Tests: PhotoZone tested on EOS 350D and 5D MKII; SLRgear; DxO Labs; Photodo
Popular Photography Measurements: 100.54-392mm F4.68-n.a. at 1:15.9-1:4.8
Nickname: "Dust Trombone"/"Dust Pump"
Additional Information:
This lens was the first ever launched L series zoom. It features a focus limiter (full, 6.5m - ∞) and comes with detachable tripod collar Canon Tripod Mount Ring B.
*There seem to be some minor incompatibilities and dysfunctionalities when using IS lenses with their IS activated with older analog EOS camera models. See EOS Documentation Project for details (slightly different for the 75-300mm 4.0-5.6 IS USM here).
---
© 2007 - 2017 Canon EOS Technoclopedia