Canon EF-M Specifications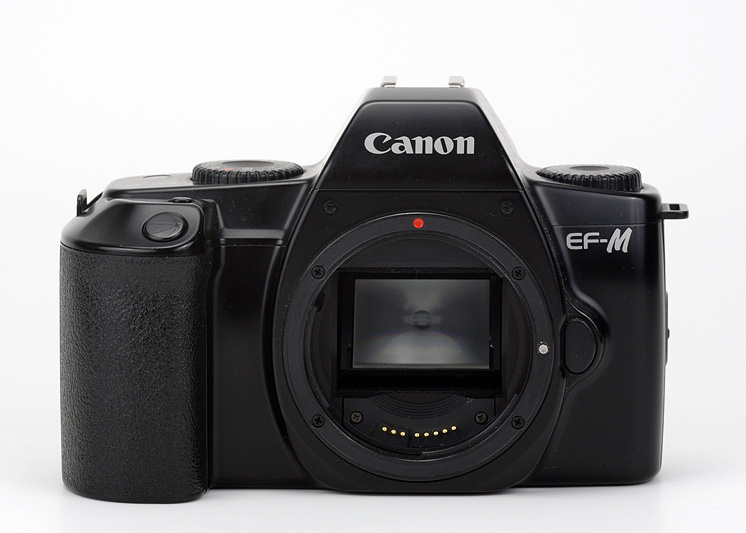 Photo © 2010 by Gregor Pabst
ISO Film Speeds (Auto): 25 - 5000
ISO Film Speeds (Manual): 6 - 6400
Shutter Speeds: 1/1000s - 2s
Bulb Mode: supported
Max. Shutter Frequency: 1 fps
Shutter Release Time Lag:
Mirror Lockup: not supported
Exposure Compensation: ±2 EV
Auto Exposure Bracketing: not supported
Viewfinder Coverage: 90%
Viewfinder Magnification: 0.75x
Focus Screen: fixed
AF Points: none (features µ-prism/split-image)
AF Operating Range: none (MF only)
Aux Light: none
Flash Metering: none (X-Contact)
X-Sync: 1/90s
Max. Trigger Circuit Voltage:
Second Curtain Sync: not supported
High Speed Sync: not supported
Flash Exposure Compensation: not supported
Pop-Up Flash: none
Body Size: 148mm x 97mm x 68mm
Body Weight: 390g
Battery Required: 1x 2CR5
Battery Grip: not available
Power Drive Booster: not available
Produced: 1991
Tests:
Additional Information:
The Canon EF-M was a manual focus only camera based on the Canon EOS 1000 (see photonotes.org) with some limitations. Lenses without MF mode cannot be used with it (i.e. Canon EF 35-80mm f/4.0-5.6 Power Zoom, Canon EF 35-70mm f/3.5-4.5 A and 100-200mm f/4.5 A), Image Stabilisation will not work and there is no depth of field preview. But ... its fully compatible with basic Speedlites such as 170M, 200M etc.