Canon Hong Kong
is the originator of various collectible gadgets. The most famous would be the
Canon EOS USB miniatures
. To find evidence seems like a mission impossible though. Here are the facts:
The EOS 7D miniature was given to all participants of the Canon Photo Marathon 2011 (hosted by Canon Hong Kong at the HK Convention and Exhibition Centre). It came with an EF-S 15-85mm IS USM 'lens' housing the stick, removable lens and body caps and a neck strap. The 'camera' served as cap.
End of facts.
The above is documented in a
press release
published by Canon and a
related picture
. The rest of the story is more or less based on rumor.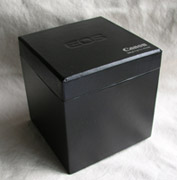 photo © 2009 by fruit-trees
EOS 5D Mark II with EF 24-105mm F4.0L IS USM: The first occurrence made the 5D Mark II miniature in 2009 on Ebay (via
Koh Kho King
(2009-04-05) and
Eclectic Electronics
(2009-04-22)). It was sold by 2 Hong Kong based sellers (
worldseller2
and
fruit-trees
), who claimed the USB drive to be a genuine Canon Hong Kong limited edition exclusively intended for Club Canon (King reports a MSRP of 15 USD, while the units sold on Ebay for 100 USD and more, and most of the information found on the net is based on the claims of those 2 ebay sellers). It was a 4GB stick delivered with neck strap, packed in a black cardboard box. The 'lens' housed the stick, the 'camera' functioned as cap. The units were sold out until end of June 2009. First ever 5D model with hot shoe!
Another claimed to be genuine version of the 5D Mark II with 2GB only was reported via
lowyat.net
(2009-06-05). The stick was housed in the camera and the lens was used as cap. Its box came in a slightly different design.


EOS 7D with an EF-S 15-85mm IS USM: E.g. Gadgets Hunter is still offering these. It's a 4GB drive and claimed to be the genuine one. It does not come in the black box, but in one similar looking to the usual Canon camera packages. Includes neck strap.
EOS 450D with EF-S 18-55mm F3.5-5.6 IS USM: Reported by
2dayBlog
(2009-04-21) and later on with a few more details by
A World Through Lenses
. The stick is housed in the 'camera' this time with a capacity of 2GB, the lens serves as cap. It's told to be a Canon Hong Kong genuine product, but no sources are named at all (neither a seller nor source of information). The 450D came in a black cardboard box identical to the 5D Mark II 4GB miniature. No neck strap.
A World Through Lenses
provides some more images I'd like to share here (all © 2010).
Canon EOS 450D USB miniature:
Canon EOS 5D Mark II USB miniature:
Well, I believe the AWTL pictured versions are genuine. I can't find official sources, but the details are very high here. There are indeed counterfeits and duplicate cheapos available, but they usually show much less detail. However, if you are into collecting miniatures, there is much more available without integrated USB storage. Just not sure either whether original or not.
Another nice gadget released by Canon Hong Kong is a set of
EOS System Playing Cards
(poker deck for Club Canon, as of 2012). The set comes in black. The colors and numbers in the corners are printed white, same for the back side which reads
For Expert - By Expert
. Instead of the pictures for king, queen etc. and center numbers there is a camera or lens pictured on every card. Seems like it's not the only Canon deck around. There was a white one selling used on Ebay lately. Though I can't tell much about it, since the pictures only showed the back side (white with the red Canon branding).